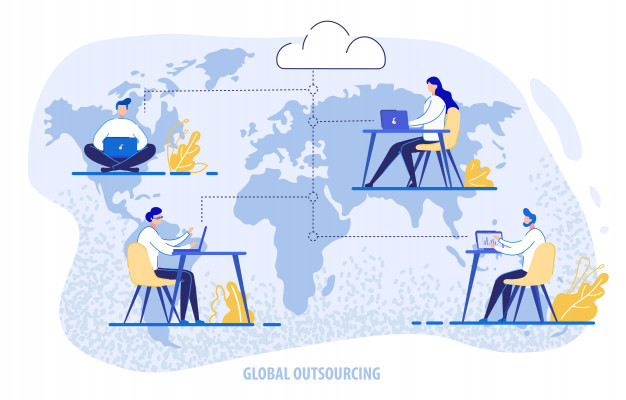 Here's Your Guide to Handle Outsourcing!
Outsourcing has a lot of advantages for your company, but it also has a lot of dangers and obstacles when it comes to negotiating and maintaining outsourcing contracts. We'll go through everything you need to know to make sure your accounting projects are a success.
What is Outsourcing?
Outsourcing is a business strategy that entails contracting out services like accounting or other job functions to a third-party provider. An outsourcing endeavor with a technology provider in information technology might include a variety of functions, ranging from the complete IT function to discrete, easily defined components like disaster recovery, network services, software development, or QA testing.
Besides, companies can outsource accounting services onshore (inside their own nation), nearshore (to a neighboring country or in the same time zone), or offshore (to a country outside of their time zone to a more distant country). Traditionally, nearshore, as well as offshore outsourcing, have been explored to save money.
How to Manage Your Business for Successful Outsourcing?
Companies that choose to outsource frequently fall into the trap of believing that once the contract is signed, the outsourcing process is complete. Rather than marking the end of a project, signing a contract marks the beginning of a business partnership, which necessitates constant management control.
Moreover, if you plan to outsource various types of work regularly, whether you're a large corporation or a small firm, you'll need to put up a methodical framework to manage your outsourcing process. Further reading to learn more about how to properly manage your company for successful outsourcing.
Will Better Outsourcing Management Improve business?
Although it has numerous advantages, it also necessitates effective management to be successful. Outsourcing necessitates a good management plan to be followed by both the client and the service provider. From picking a provider through negotiating the transaction, managing the relationship, and dealing with the distributed process.
In fact, setting up a good management framework for an outsourced project will help you achieve your goals:
Enhanced performance and quality of work
Better risk and crisis management
Increased coordination and organization
Marked reductions in overall expenses
Improved streamlining of the process
Greater likelihood of the project's success
Why MFhills?
Are You Paying A Formidable Amount Of Money For Your Bookkeeper Or Accountant? Now You Can Drastically Perform Cost-Cutting Measures By Simply Outsourcing Your Bookkeeping And Accounting Tasks.
Are You Looking For Bookkeeping Services In The USA? Are You Looking For Accounting Outsourcing Companies In The USA? If You Are Thinking To Invest In Accounting Software For Small Businesses Or Looking For Bookkeeper Services For Small Businesses, We Are Just One Phone Call Away. A Devoted Squad Of Our CPA Firms Working 24×7 For Your Accounting And Taxation-Related Tasks With Great Efforts. Contact Us To See How Our Accounting Expertise And Personalized Services Can Save You Time, Money, And Frustration With Managing Your Finances.
Contact Us On Mobile Phone: +1 (650) 351 7900;
Or Put An E-Mail: Admin@Mfhills.Com