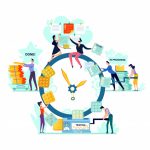 Small businesses should outsource these services
There has been a rapid increase in competition among small businesses. Small businesses are trying to outsource for their business to grow. In most cases, to save up money, small businesses do not outsource resources. They feel that it will be expensive for them. They fail to understand the consequences of not outsourcing resources from authorized companies. Instead, they believe in saving up the money, which leads to a loss in both opportunities. Ultimately it negatively affects the business's quality.
Here are the five things that small businesses must outsource.
5 Things to be outsourced by small businesses
Tax Filing and Preparation
This involves legal work with legal formalities. Such departments must be handed over to highly professionals and trustworthy enough to handle matters related to taxes. Finding a good team of tax consultants is an easy task. You can also give them temporary access to the online accounting software. Consequently, they will easily be able to help you with VAT, Service Tax, and TDS Return Preparation.
Outsource those things that you don't enjoy
We all have our likes, dislikes, and areas of interest, and it is evident that we are not interested in some parts of the business. Working out of our interest and our will might drain out our productivity and creativity in various ways.
If there is no interest we will not pay any attention to it and even avoid it. Additionally, this might bring losses or negatively affect the businesses. Suppose, you are not interested in data collecting tasks of the employees, so it is a good idea to outsource it to someone who is an expert in handling such matters.
Skills at which you aren't perfect at
It is impossible for all humans to know, learn, and understand almost everything in the world. Moreover, no human in this world is perfect. It is always advisable to outsource a few skills to those we do not know about. For example, suppose you set up a business on fashion products and goods but do not know about marketing and website setup. In that case, you should outsource these skills to those who are highly experienced and professionals in it.
Event management
It is always considered a better option to hand over the event management tasks to an expert agency.  Hence, if an inexperienced person tries to handle an event, it might take up a lot of time. In the end, the event might turn out to be a mess. This will not create a good impression on both the business and the clients. Furthermore, a small business with a good event management team may enjoy the advantage of developing good connections. Accordingly, they will link with the technicians, sound engineers, food caterers, and other vendors.
Outsource your social media marketing
Social media marketing requires good communication and marketing skills among the public. Besides, it is necessary to have a good team for handling such tasks.
The team of social media marketing will help monitor the growth of your followers, engagements, and visitors. It will also help you develop and enhance your business on social media by promoting it in a wide range.
So, that's all for now. However, few things should not be outsourced. Some of these are sales, customer support, business problems, core competence. Additionally, it includes exit interviews, and personal matters like security, confidential information, etc.
Hope we helped you with this article about outsourcing resources safely and wisely.
Why MFhills for Outsourcing Service?
Are You Paying A Formidable Amount Of Money For Your Bookkeeper Or Accountant? Now You Can Drastically Perform Cost-Cutting Measures By Simply Outsourcing Your Bookkeeping And Accounting Tasks.
Are You Looking For Bookkeeping Services In India? Are You Looking For Accounting Outsourcing Companies In India? Contact Us To See How Our Accounting Expertise And Personalized Services Can Save You Time, Money, And Frustration With Managing Your Finances.
Contact Us On Mobile Phone: +1 (650) 351 7900;
Or Put An E-Mail: Admin@Mfhills.Com;
And Do Visit Us On The Website: Https://Mfhills.Com/