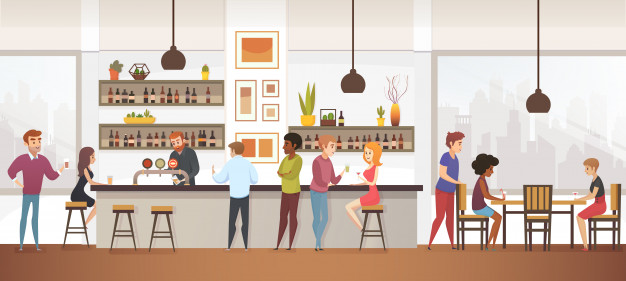 Thinking to outsource your restaurant accounting?
While the customers enjoy the food served in the restaurants and emphasize only on the quality of food and delivery but they are unaware of what's going behind the scene. As a restaurant owner, your goal is to provide customers with the best customer experience with delightful recipes and ambiance. To run an effective restaurant business, financial planning and accounting play a crucial role. Restaurant owners dedicate their time and energy to work on back-office tasks that impact the restaurant business and thus can't pay the required attention to accounting work. You might prefer to have to outsource accounting and bookkeeping tasks so that your financial tasks are not ignored. Considering the small business nature of restaurants, outsourcing your financial tasks will have benefits that have been listed below in this article.
Benefits of outsourced accounting for restaurants:
As a solution, the owners of many restaurant companies have agreed to rely on outsourced accounting for restaurants in India. The main accounting functions like cash flow forecasting and management, payroll data input, account payable and receivable and many other functions are managed by an off-site team for outsourced accounting for restaurants India. As an outcome of outsourced accounting, the owners will have accounting and stronger management after all.
Some benefits are:
Focus more on the business model:
The restaurant bookkeeping is a time-consuming task for any restaurant organization but outsourced accounting for restaurants in Indian restaurants has relieved the burden of accounting management from the owners. Managers have to spend less amount time completing the accounting process working with an offsite team. This creates a lot of space and time that owners to focus on restaurant service and make strategies on how to improve the restaurant experience for customers.
Eliminate fraud issues:
Fraud is very common in any business if the behavior of higher authorities is very casual. Many large restaurant companies have to deal with cash-heavy nature so fraud cases arise. Spotting the fraud or from where the money is getting displaced needs an eagle-eye and regular checking. But due to heavy workload business owners do not have enough time to notice these cases. By outsourced accounting for restaurants, a team of experienced accounting investigators will have this responsibility to keep an eagle eye. They can regularly check and keep your accounts clear of any fraud-related issues.
Receive more strategic accounting process:
In the restaurant business industry, success and constancy are very difficult to find. Restaurants must adopt excellent financial strategies and then take appropriate decisions for improved customer experience and services. The basic accounting strategies followed by the company's decision-makers do not create anything out of the box. Due to this problem, restaurant accounting becomes a liability for many. Outsourced accounting enables restaurants to make accurate decisions for the future by analyzing accurate numbers and statistics.
Gain access to industry experts:
Business accounting and restaurant management are not the same things and require different skill sets. Most of the restaurants dedicate a huge sum of assets, time, and energy only to get an enormous outcome. By outsourced accounting, restaurants can get access to professional accountants and services. Outsourced accounting for restaurant services also offers dedicated client support. This often proves very cost-effective.
Other benefits include:
No need to bear any extra cost of hiring a new accountant for restaurant bookkeeping. This would have increased your expenses in the form of installing new software and providing proper training to the newly hired employees.
The outsourcing team will assist you in effective tax planning strategy for the business. Outsourced accounting for restaurants in India has expertise in many fields.
The offsite team will provide you with regular reports so that you can manage inventories according to business growth. You must keep the track of materials available because a customer will demand anything and you won't like to say no to them.
Outsourcing is a decision that no one should take it lightly. As an owner, you must be thinking to take exert advice before going for outsourcing. Whenever you think to have a conversation on this matter, you can reach out to our outsourced accounting expert at MFhills.